[POP TALK] Chris Cohen, conversation à cœur ouvert
Musique
- 03.6.2019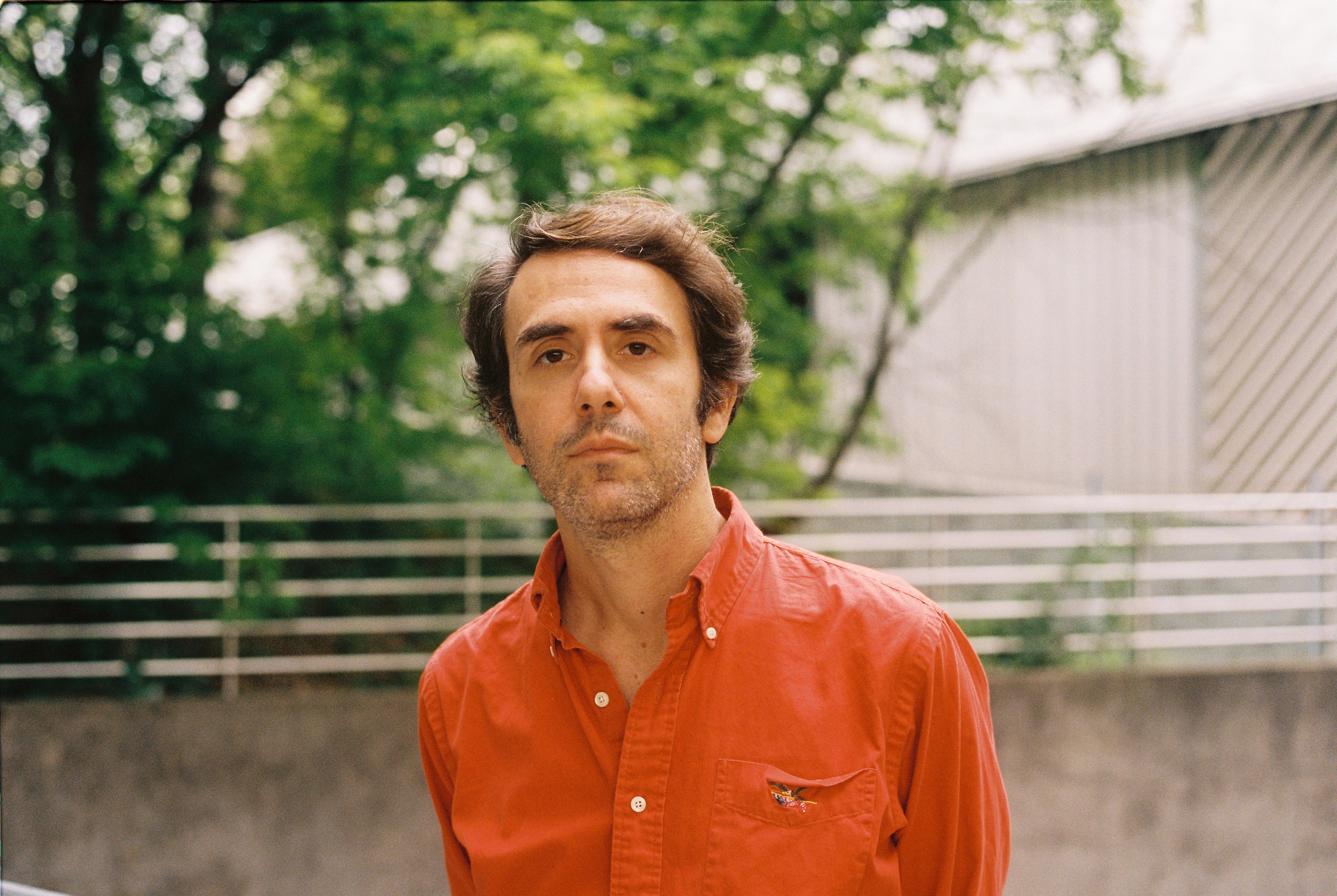 Chris Cohen a la voix douce et les idées bien en place
On l'a rejoint là, sur un banc du parc de la Villette, à côté du Trabendo où il jouera plus tard dans la cadre du (très) Beau Festival. Son dernier album, sobrement intitulé Chris Cohen, traverse les affres d'une vie familiale envahissante et destructrice jusqu'au divorce tardif mais libérateur des parents. Entre un père longtemps héroïnomane qui a attendu de passer la soixantaine pour faire son coming out et une mère qu'il a toute sa vie protégée, Chris Cohen s'est accroché à la musique qu'il rend plus riche et plus précise à chaque album.
S'il a l'habitude de tout faire par lui même, le natif de LA s'est, cette fois-ci, entouré de musiciens tel.le.s que Katy Davidson (Portland Dear Nora), Luke Csehak (Happy Jawbone Family Band), Zach Phillips ou la saxophoniste Kasey Knudsen. L'album, moins fuzzy mais tout aussi sensible que ses prédécesseurs, s'écoute en boucle et en toutes circonstances.
You waited three albums to name one after yourself, does it mean this one is the most personal so far?
Tu auras attendu trois albums pour donner ton nom à l'un d'entre eux, ça veut dire que c'est ton plus disque le plus personnel jusqu'ici ?
I self-titled it because I thought it was cool to name a third record self-titled, like Royal Trux or Velvet Underground, it's in the tradition. All my music is personal. But maybe having a photo of me on the cover was the first idea, and then having it self-titled made the most sense… It would have been weird to put other words on a photo of myself. I wanted it to be plain and direct, not suggesting anything else than what it was.
Je lui ai donné mon nom parce que je trouvais cool d'appeler un troisième album comme ça, dans la tradition de Royal Trux ou du Velvet Underground. Toute ma musique est personnelle. La première idée c'était de mettre une photo de moi en cover, puis d'y apposer mon nom, c'est ce qui avait le plus de sens : ça aurait été bizarre de mettre d'autres mots que mon nom sur une photo de moi. Je voulais que ça soit direct et évident, que ça ne suggère rien d'autre que ce que c'est en réalité.
Most people deal with their parents divorce as children, how was it dealing with it as an adult?
Beaucoup de parents divorcent quand leurs enfants sont encore jeunes, comment as-tu géré la séparation de tes parents en tant qu'adulte ?
My parents being divorced was a great relief. For my mum, to finally let go of her marriage was the only thing she could do to survive and to preserve her own health and I was really proud of her for doing that. And for me it was like "finally I don't have to deal with this guy anymore". I don't speak to him anymore, but for a while, my dad was a heroin addict and it was just insane to try to have a relationship with him, so at a certain point I gave up and my mum finally gave up. I also wanted them to take their lives back while there's still time, they're almost 80 now.
Le divorce de mes parents a été un grand soulagement. Pour ma mère surtout : qu'elle lâche enfin prise sur ce mariage était la seule chose qu'elle pouvait faire pour survivre et préserver sa santé, j'étais très fier d'elle quant à cette décision. Pour ma part c'était plutôt : « enfin, je n'ai plus à me préoccuper de mon père ». Je ne lui parle plus, mais pendant longtemps mon père était héroïnomane et c'était de la folie pure que de vouloir entretenir une relation avec lui, alors au bout d'un moment j'ai abandonné, puis ma mère après moi. Je leur souhaitais aussi de reprendre leurs vies respectives en main tant qu'il en était encore temps, il ont presque 80 ans.
Did it change your prospective on love? And on marriage?
Ça a changé ta perception du mariage, et de l'amour en général ?
No, it reaffirmed the feelings I already had : in love you are sharing everything at the possible cost of losing everything, but if you don't share everything, you don't get the same kind of love.
Non, ça a réaffirmé ce que je pensais déjà : en amour on partage tout, au risque de tout perdre, mais, si on ne partage pas tout, on obtient pas le même genre d'amour.
Do you feel putting this record out helped you process and eventually get rid of the issues you had with your dad?
Sortir ce disque t'as aidé à te débarrasser des soucis avec ton père ?
No but I'm glad I don't speak to him anymore because it almost ruined my life. When I was making my last record, this was already happening and I barely finished it because I was constantly trying to protect my mum and keep her and I safe and sain. This just left nothing left for anything else, let alone creativity. So getting out of this relationship suddenly gave me space and time! My music has been burdened by this situation and now I feel like I have so much time and energy, it's like starting over.
Non, mais je suis content de ne plus avoir de contact avec lui parce que tout ça a presque ruiné ma vie. Ça se passait déjà quand j'écrivais mon deuxième album et j'ai failli ne jamais le terminer parce que je passais mon temps à protéger ma mère et à faire en sorte qu'elle soit en sécurité et en bonne santé. Il n'y avait aucune place pour quoi que ce soit d'autre, et certainement pas pour la créativité. Alors forcément, sortir de cette situation m'a donné beaucoup de temps et d'espace ! Jusqu'à aujourd'hui, ma musique a été très alourdie par tout ça, et là je sens que j'ai plein de temps et d'énergie, c'est comme tout reprendre à zéro.
I feel like production wise, this album explores new grounds. Do you think you needed collaborations to open up your musical horizons?
J'ai l'impression qu'en terme de production, cet album explore de nouveaux terrains. Tu crois que c'est le fait de collaborer avec d'autres artistes qui t'a ouvert à d'autres horizons ?
I had an idea of a certain area in my music that I wanted to open up for collaboration.  When I choose people, I already like what they do, then I open a little space for them and let them do their thing once a song was nearly done.
J'avais une assez bonne idée d'un espace de ma musique qu'il était possible d'ouvrir aux collaborations. Je choisis des gens dont j'aime déjà le travail, puis je leur ouvre un petit espace  et je leur laisse y faire leur truc une fois que le morceau est déjà quasiment terminé.
Are you used to do everything by yourself because you don't trust anyone?
Tu as l'habitude de tout faire tout seul parce que tu ne fais confiance à personne ?
Kind of yeah, but also I really enjoy it… And I kinda hate it because it's a weird mania that I have : I'm very particular about each thing and I know exactly how I want each thing to sound. If I don't know how I want it to sound then I should invite other people, I would like to make music like that someday for my own songs.
Un peu oui, mais à la fois j'adore ça… et d'un autre côté je déteste parec que c'est une anie un peu bizarre que j'ai : je suis très particulier sur chaque détail et je sais exactement comment je veux que chaque chose sonne. Si je ne savais pas comment je voulais que ça sonne, alors je devais inviter d'autre gens. J'aimerais vraiment travailler mes chansons de cette manière un jour.
Who would you dream of collaborating with -dead people included?
Avec qui rêverais-tu de collaborer -morts inclus ?
Eduardo Mateo.
How has working with Ariel Pink or Cass Mc Combs influenced your music? / Has it at all?
De quelle manière travailler avec Ariel Pink pu Cass McCombs a pu influencer ton travail, si ça a eu quelque influence que ce soit ?
I didn't play with Ariel Pink for very long, just a month, but I listened to his music a lot. I think with Cass McCombs (I played drums and guitar), I don't really understand how he writes songs, so I can't say that I'm influenced by his process but I like his lyrics a lot. I think I was much more influenced by working with Crypticize and Deerhoof.
Je n'ai pas joué longtemps avec Ariel Pink, juste un mois, mais j'ai beaucoup écouté sa musique. Cass McCombs (je jouais de la batterie et de la guitare avec lui), je ne comprends pas comment il écrit ses chansons, donc je ne peux pas dire que j'ai été influencé par sa méthode, mais j'aime beaucoup ses paroles. Je crois que j'ai été beaucoup plus influencé par Crypticize et Deerhoof.
Talk et photo Agathe R.