[POP TALK] Miles Kane, coup de coeur pour Coup de Grace
Musique
- 03.7.2018

On a discuté lutte, coeur brisé et Lana Del Rey avec le prince de l'indie rock.
Miles Kane est un rockeur qui se lève tôt. Il est assis sur une banquette du Grand Amour, lunettes fumées, petite chaîne et sourire d'anglais charmeur. La moitié des Last Shadow Puppets et ex-frontman des Rascals s'est remis d'un break-up entouré de bons amis, d'une guitare, et s'en sort fort d'une jolie rencontre avec… Lana Del Rey. De là, un nouvel album, Coup de Grace, petit bijou énervé par endroits, tendre par d'autres, un peu comme lui.
You sang a cover of "Les Cactus" with The Last Shadow Puppets and now your album is called Coup de Grace, what's with the whole French thing?
Tu avais repris "Les Cactus" avec les Last Shadow Puppets et ton nouvel album s'appelle Coup de Grace, qu'est-ce que tu as avec le français ?
Ahahah, I just can't get enough I guess. I got Coup de Grace because I like wrestling and it's my favorite wrestlers finishing maneuver. When we were writing that song I didn't have a chorus but i liked that word "coup de grace" and i liked what it means. I think my friend who's a wrestler and whose favorite finishing move it is texted me or something and i just started singing "coup de grace" over that tune and it ended up sticking.
Ahahah, je ne m'en lasse jamais. J'ai choisi Coup de Grace parce que j'aime la lutte et que c'est mon coup préféré. Au moment d'écrire cette chanson, on avait pas de refrain mais j'aimais le mot "coup de grace" et j'aimais ce qu'il signifiait. Il me semble même qu'un pote lutteur dont c'est le move favori m'a envoyé un texto à ce moment là et je me suis mis à chanter "coup de grace" sur la mélodie qu'on avait et c'est resté.
There's a certain punk energy to most of this album, do you feel angry or something?
Cet album a une énergie plutôt punk par endroits, t'es en colère un peu ?
Yeah well the faster tunes, like "Silver Screen", were definitely a bit angry. If you have a feeling where something is annoying you, I do like to sing about it, it makes me feel better, it gets out.
Oui, c'est vrai sur les chansons les plus rapides comme "Silver Screen", il y a clairement de la colère. J'aime chanter sur des émotions pénibles, ça sort et ça me fait me sentir mieux.
Some songs are clearly about a breakup and I heard Jamie T helped you writing them. Does that combination makes this album a more intimate one?
Certaines chansons parlent de rupture amoureuse et j'ai entendu dire que Jamie T t'avait aidé à les écrire. Cette équation fait-elle de cet album un objet plus intime ?
I've written songs about that before, it's like the classic, isn't it. But the feelings and the emotions i was going through at that time… it was kinda deeper that it ever was before. There was a stage where after writing a lot of songs for this album, i couldn't finish anything, probably because of what was going through my life, and i was getting more frustrated. I found it hard to put emotions onto tunes, i didn't know how to say it, maybe a little bit like a writer's block. I've known Jamie for like ten years and when we started to work together that sort of kick-started me or got me in place. He's a great writer, he really understand me, I'd really open up to him and he helped me through that time.
J'avais déjà écrit des chansons à ce sujet, c'est un grand classique, hein. Mais les sentiments et les émotions qui me traversaient à ce moment-là était plus profondes que jamais. Puis il y a eu un moment, après avoir écrit pas mal de chansons, où je n'arrivais plus à rien finir, sans doute à cause de ce que je vivais, et j'étais frustré. C'était dur de mettre des émotions sur des mélodies, je savais pas comment dire les choses, un peu comme un écrivain et sa page blanche. Je connais Jamie depuis dix ans et travailler avec lui a eu un effet déclencheur. Il écrit super bien, j'ai pu m'ouvrir à lui et il m'a beaucoup aidé dans cette période-là.
Does that make Jamie your new Alex then?
Jamie c'est ton nouveau Alex [Turner] ?
Ahahah it's different and it's similar you know. I've worked with a lot of people and I'm very lucky to have worked with a lot of people but there was something with Jamie, it was like the right place at the right time. It was easy, we would just write everyday and we'd got a song, there was no frustration, it was sort of fun. We started in LA and then we did a lot in London.
Ahahah c'est différent et semblable à la fois. J'ai travaillé avec beaucoup de gens et je suis hyper chanceux de l'avoir fait, mais il y a quelque chose de différent avec Jamie, c'était le bon endroit au bon moment. C'était simple, on écrivait tous les jours et on faisait des chansons, sans frustration, c'était assez fun. On a commencé à LA et on a beaucoup avancé à Londres.
How did the unexpected collaboration with Lana Del Rey happened ?
Comment est arrivée la collab avec Lana Del Rey ?
Strange right ? Jamie was playing this little acoustic show in LA and i went to it, and she was there, she was with friends who were fan of Jamie's. We've met before but not really hung out or anything. I think I was making a face or something because she came to me and was like "what's wrong with you", and we started talking and I told her me and Jamie were gonna be writing this week and she said "oh I'd like to hear that". And the next day she face-timed us and ask if could come around. At that time we had the chorus on "Loaded" which ended up being the outro and she said "can I try a chorus?" She started singing a melody  that's now the chorus, and I was like wooooow, she's cool and we wrote a lot of songs together.
Chelou hein? Jamie faisait un petit concert acoustique à LA, j'y suis allé, et elle était là, avec des potes à elle fans de Jamie. On s'était déjà croisé mais jamais vraiment traîné ensemble. J'ai dû faire une tête bizarre parce qu'elle est venu me voir pour me dire "c'est quoi ton problème", et on a commencé à discuter. Je lui ai dit qu'on comptait écrire avec Jamie cette semaine et elle a répondu "j'aimerais bien écouter". Le lendemain elle nous a face-timé pour demander si elle pouvait passer. A ce moment-là, on avait le refrain, qui a fini en outro, sur "Loaded" et elle de dire "je peux essayer un truc pour le refrain?". Elle s'est mise à chanter une mélodie qui est resté le refrain sur l'album et je me suis dit wooooooow elle trop cool, et on a écrit plein d'autres morceaux ensemble.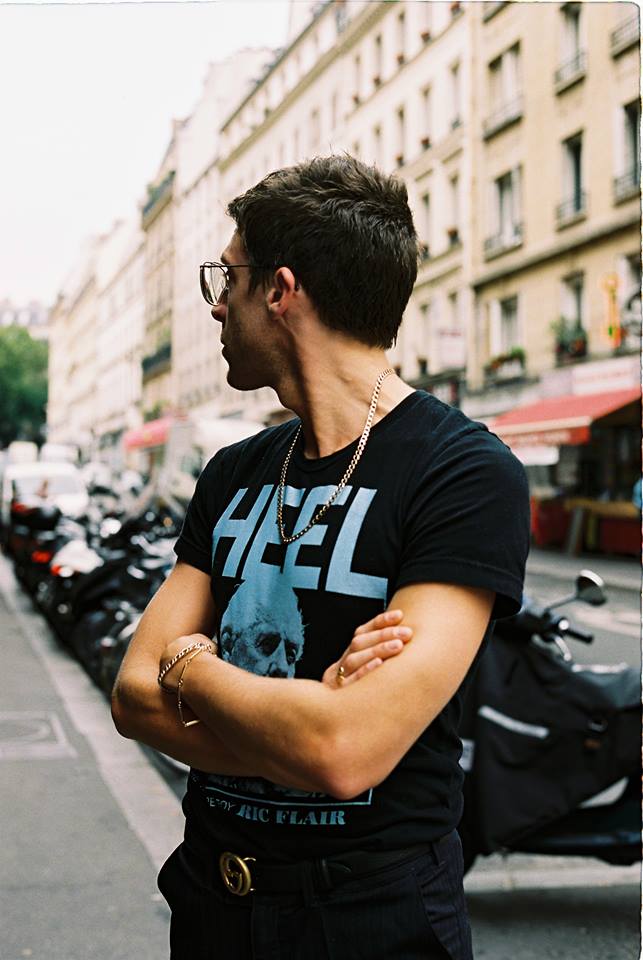 What's your opinion on the current rock scene state ?
Que penses-tu de la scène rock actuelle ?
I think there's a lot of great new bands out at the moment like Shame, The Blinders are really good too. It is kind of frustrating that all them bands and myself kinda need to be in charts or on maintream radio. Then you have to do pop and that's sort of annoying. New bands should be able to be in competition with eachother on a mainstream level, it would be nice. All of this pop shit is frustrating and forbids competition between young bands. It means nothing.
Il y a plein de super groupes en ce moment, comme Shame ou The Blinders. C'est juste frustrant que tous ces groupes, moi inclus, aient besoin d'être dans les classements ou de passer en radio mainstream pour exister. Mais bon après, t'es obligé de faire de la pop et c'est chiant. Les nouveaux groupes devraient pouvoir être en compétition les uns avec les autres. Toute cette soupe pop est frustrante et empêche la compétition. Ca n'a pas de sens.
I heard you have a small part in the next Romain Gavras movie, do you wanna start acting?
J'ai entendu que tu avais eu un petit rôle dans le prochaine Romain Gavras, tu veux devenir acteur ?
It's only a very small part! Romain is a friend of mine and he took me in as a favor. I'm singing Robbie Williams "Angels" in a karaoke, it last for one minute tops but it was really fun to do, I'd do it again !
C'est juste un petit rôle ! Romain est un ami, il m'a fait ce cadeau. En gros je chante "Angels" de Robbie Williams dans un karaoké, ça dure une minute max mais c'était fun à faire, j'y retournerais avec plaisir !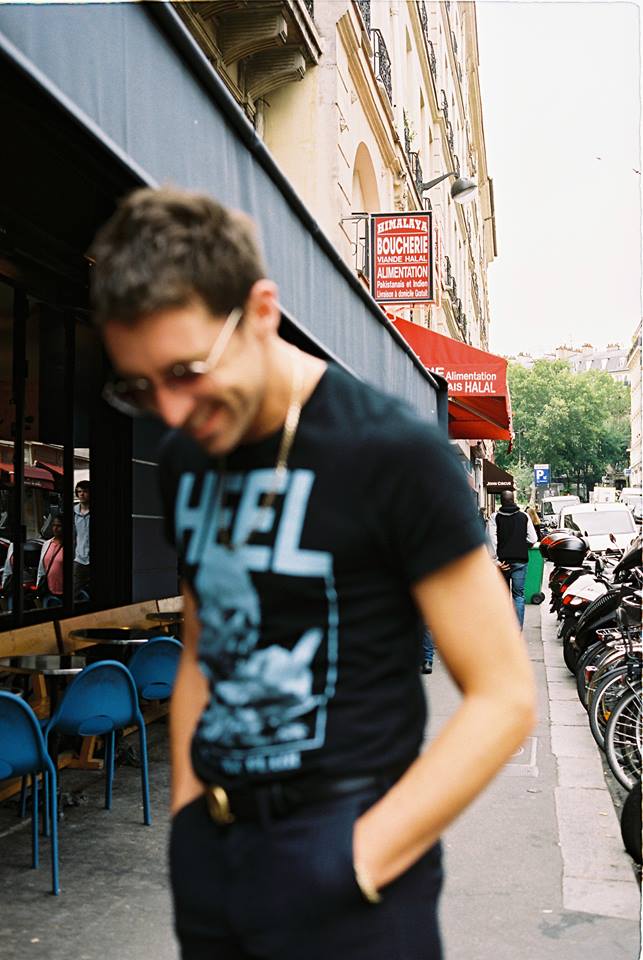 Photo Agathe Rousselle
Agathe est sur Instagram @ag_rou